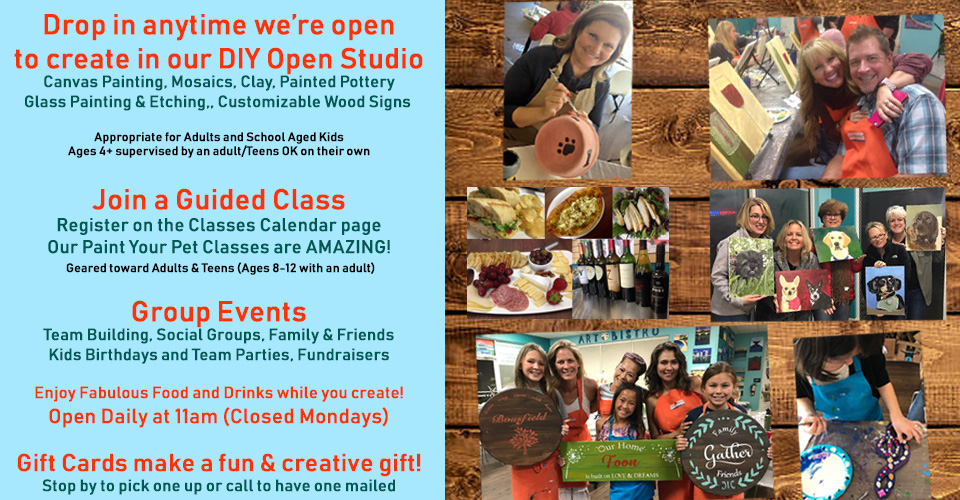 Fun Projects for Spring and Summer!
Social Art Studio ~ Bistro ~ Wine Bar
There's SO much to explore and enjoy! We invite you to come discover your new favorite place!
Sharing my creative vision
The Art Bistro was joyfully created by Aimee Rebmann and her fiancee John Joseph (the techie and woodworking wizard!). Aimee has been an art teacher for about 20 years, many working in the Sacramento region's schools teaching K-8 and Interior Design at American River College, as well as teaching the "paint & sip" concept with her mobile business, Creative Juices Events, for 5 years and then opening the Art Bistro in early 2016. Aimee and John's passion is to provide a place people love to hang out, explore a variety of art projects, socialize with great food and a glass of wine or beer, and connect with their creative spirit! An art studio and bistro for both adults and families to enjoy! Cheers!
Announcements
Check here often for the Art Bistro's latest news and announcements!
Contact Us
Come Visit!
Enjoy great food and drink while you get your creative juices flowing!
Closed Monday
Tuesday and Wednesday 11:00 am to 8:00 pm
Thursday Through Saturday 11:00 am to 9:00 pm
Sunday 11:00 am to 6:00 pm
(916) 472-0252




6848 Five Star Blvd.
Suite 6
Rocklin, CA 95677